Car Maintenance New Year's Resolution Ideas
As we approach 2016, it's time to start thinking of New Year's resolutions. But if you're anything like a few of our Principle Auto Group team members, you have high ambitions that aren't always followed through. We've learned the best way to keep your New Year's resolution is by choosing one that's simple and realistic.
Of course, since we're in the automotive industry, we think your resolution should be one that also benefits you and your car.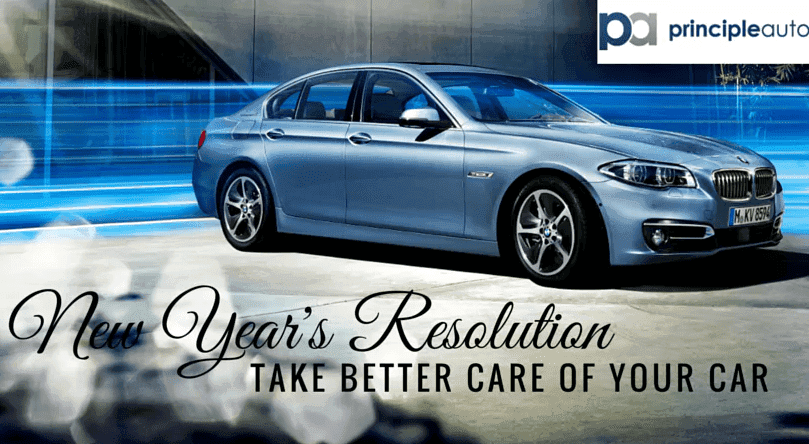 So we at Principle Auto Group think your 2016 New Year's resolution should be to take better care of your car!
The better you care for your car, the better its performance will be. Keeping up on all your vehicle's service needs will also improve its longevity. One simple way to take care of your car is to wash it regularly. It's easy for dirt and slime to built up inside and out of your car, but it's nothing a little TLC can't fix.
The Principle Auto Group team has put together some of best car washing tips and tricks to help get you started:
Find a covered or shady area. Try to not wash your car in direct sunlight. It can soften paint, which makes it more susceptible to scratches. The sun can also cause soap to dry too quickly, which will leave spots and streaks. If you can't find a shady spot, make sure to keep your car or truck wet at all times during the wash.
Use a specialized car-wash product instead of dish soap or detergent. Using soap you have on hand maybe easier and more convenient, but it's not as safe for your car. The products formulated for use on car paint are gentler, more mild and will keep you from stripping off the protective wax on your car.
Select a natural sponge or a mitt made of lambswool and make sure it is clean. Start on the top of the car and work your way down, cleaning the sponge and changing the water as you go. Any dirt or grit left behind on a sponge or rag could scratch your car.
Dry your car by blotting it with a clean, soft towel to prevent watermarks from forming.This is better for your car than air drying. Use a gentle squeegee first to remove water from the car's body if you need to speed up the process.
Now that your vehicle is sparkling clean, let the teams at our dealerships in Memphis, TN, or San Antonio, TX, take care of the inside. Make a service appointment with Principle Auto Group today to keep your engine in top shape!
Find our nearest location to schedule auto service here.
We invite you to come by one of our dealerships and speak with our knowledgeable and friendly sales associates or browse our inventory online.