7 Texas Beaches To Visit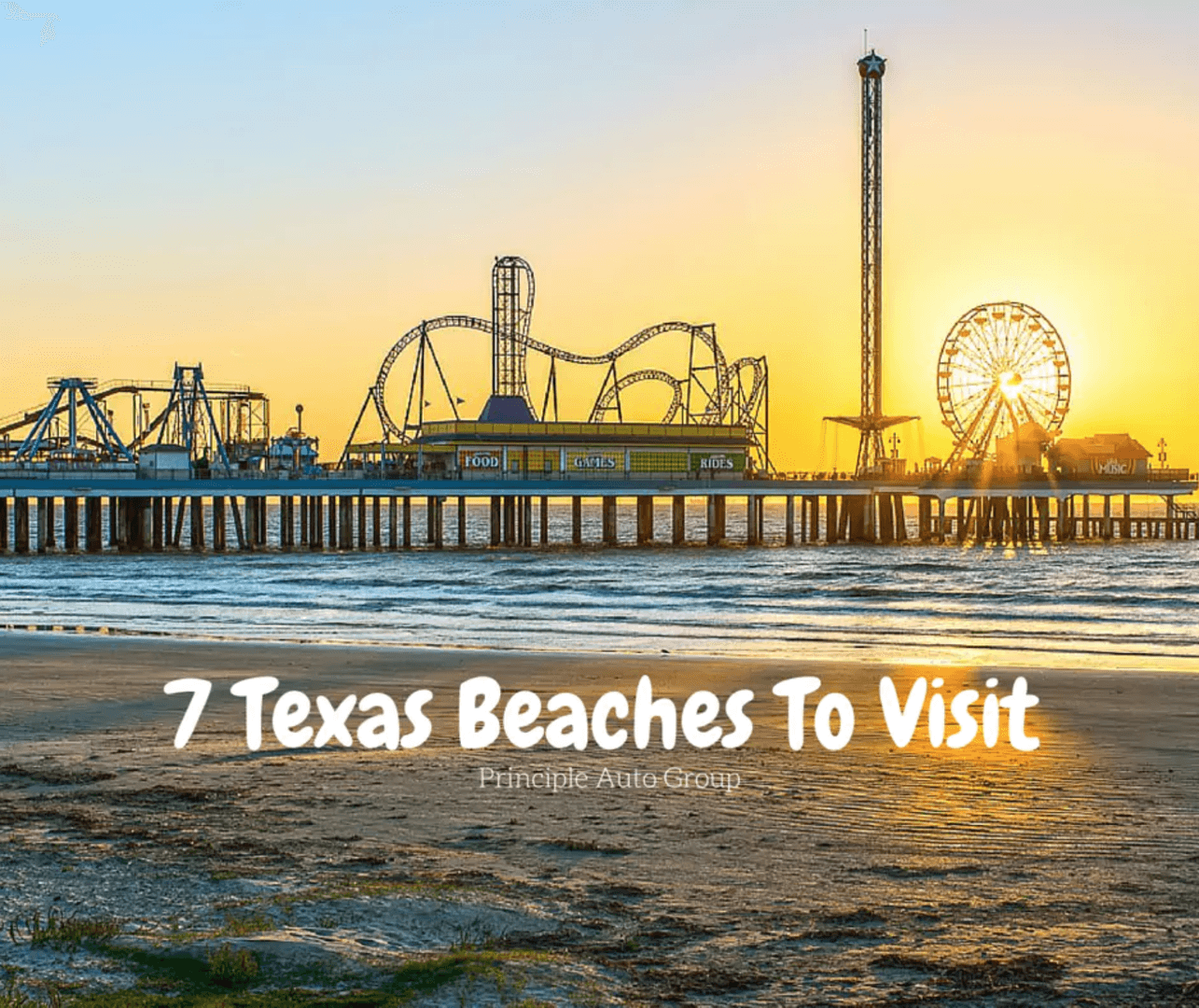 Principle Auto wants to give you a some summer vacation inspiration. You don't even have to leave Texas!
One of the perks of living in Texas is that, we don't have to leave Texas! We have some of the most fun places to adventure and over 600 miles of coastline. There are plenty beach spots in that. Principle Auto loves the beach. Who doesn't?
At Principle Auto we enjoy taking care of our customers and their vehicles. This goes beyond our dealerships. We want to make sure that besides your vehicle purchase or maintenance, you are enjoying your life! And who doesn't love a beach getaway? Our team loves a good beach vacation. Check out 7 of our favorite getaway spots in Texas.
7 Texas Beaches To Visit
Port Aransas, Texas
Located on Mustang Island, Port Aransas is one of the most beautiful secluded beaches in Texas. The ferry makes it so that visitors are going their intentionally. And although tourism makes up most of their economy, there is a strong local vibe. Don't be fooled when we call this a local spot, there are over 30 restaurants and plenty of things to do when you visit!
Rockport Beach, Texas
Chosen because it is not only one of the cleanest beaches in Texas, it also extremely family friendly. This beach faces Aransas Bay and makes it so that the waves are calm and minimal. Overall it is seen as more of a romance destination because of it 1500 foot pier that is lit up at night. It is a great place to bring kids or your beau.
Padre Island, Texas
Unlike South Padre, Padre is wild and natural. The beaches are undeveloped and you can truly go on an adventure! If you want to feel like you've traveled to a remote location, visit Padre Island National Seashore!
Surfside, Texas
This town isn't named Surfside for no reason! If you love water sports and you're an active person. Check out Surfside! There is so many unknown and unique places to stay and eat. You will truly get an experience like no other.
Galveston Island, Texas
Just a short drive from Houston, Galveston is internationally known as a tourist destination. You can truly choose what kind of trip to have. Whether you want a luxurious getaway or you want to budget more intensely. Either way we know there is plenty of fun to be had in Galveston!
South Padre Island, Texas
South Padre is definitely an experience to remember. As one of the most popular college spring break destinations, it has a lot to offer visitors. Between the horseback riding, restaurants, and being known as the "Sand Castle Capital of the World", you can always find adventure here.
Kemah, Texas
If you are looking for a place to take your family this summer, Kemah should be on that list. This beach town is known for a variety of attractions that suit everyone in your family. From their lively boardwalk with amusement rides, to the shopping, everyone can find something to love about Kemah. Be sure to do a little research about what special events may be going on during your stay! During the summer there is always something notable happening in Kemah!
Before you head out, visit your nearest Principle Auto dealer for a comprehensive service check-up. We will make sure all is good under your hood, and your vehicle will keep your precious cargo safe and sound!