3 Reasons To Have A Vehicle In College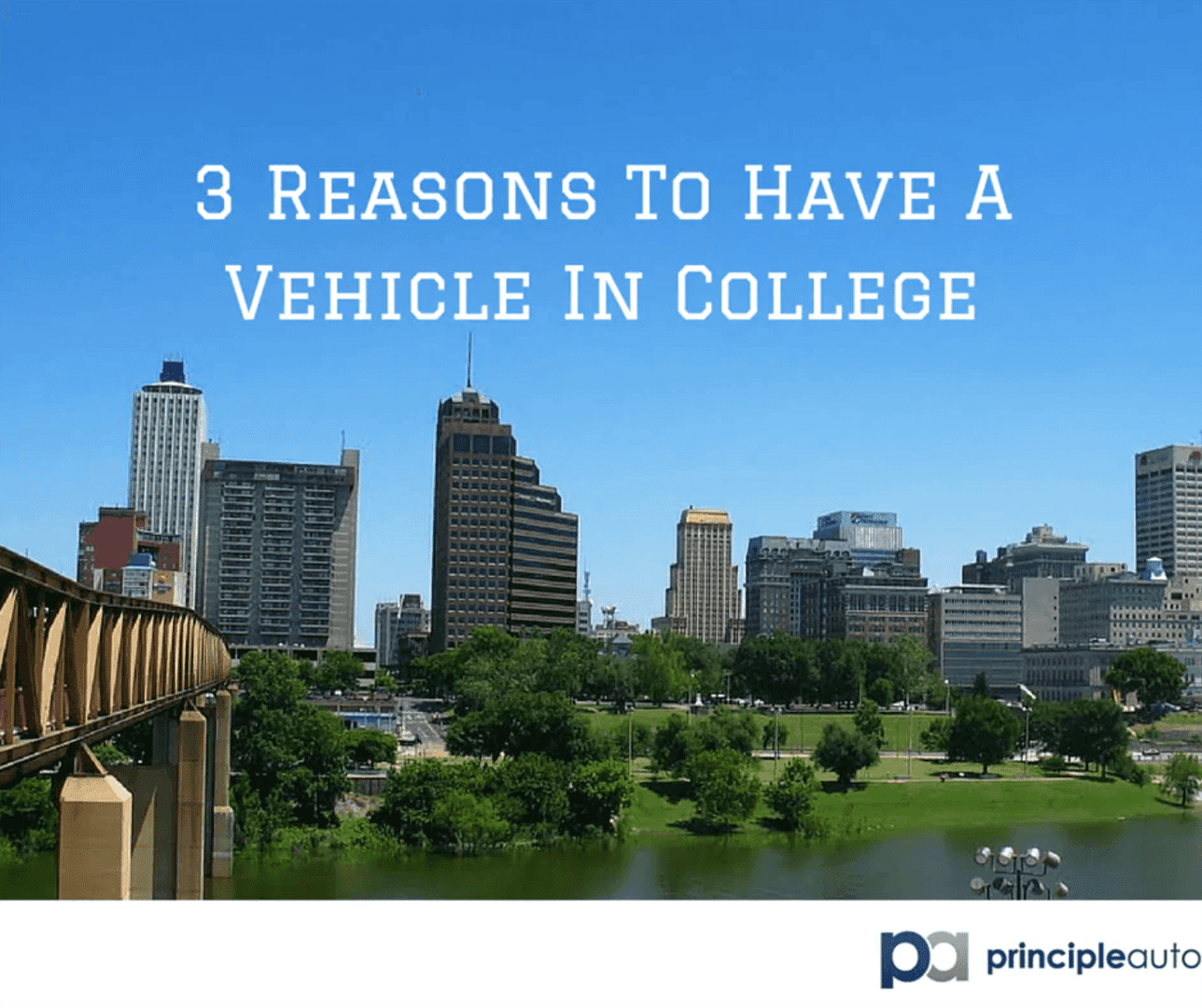 Principle Auto has put together three reasons why it would be advantageous for your, or your student, to have a vehicle as they head off to college.
Are you getting ready to go away to college this fall? Or are you mentally preparing for your child to go away to school? Either way this is a chaotic season for you. Amongst many other dilemmas, having a vehicle in college is a topic that many parents and students go back and forth on. There are fair arguments for both the pro's and con's. But at Principle Auto we offer you vehicle solutions.
So as you wonder if the added expenses are worth it. Or question if having a car add or take away from his or her college experience. Principle Auto has three reasons that you should consider having a car in college. This is especially if your student is going into their sophomores through senior year.
PAG 3 Reasons To Have A Vehicle In College
1. Internships and jobs.
By having a vehicle, your student is able to get to their internships or jobs easier. Many college programs require an internship at some point and internships are highly suggested while in school. They are a great way for students to network and get experience to better help their odds in finding a job post graduation. Also, as you get a handle on college you may want to start working to help aid with college expenses (or just to have extra spending money.)
Having a vehicle allows you to have a little more flexibility with your availability to schedule. Class times can be somewhat sporadic and spread out throughout the day. Add in a bus schedule it becomes tricky to find the right spots to fit a work shift.
Looking for a great internship? Contact us!
2. Public transit can be tricky.
Although both major cities our dealers are located have great public transit. Our students often end up going to schools in smaller communities or even far from home. Many times when students are looking to going off campus it's not actually the most ideal time to be on public transit.
Example being, after an evening class or during more extreme weather conditions. From grocery shopping to living off campus, there are times that the public transit schedule won't be ideal for your schedule. Having a vehicle will allow your student to go where they need to go, when they need to go. The sporadic schedule doesn't have to interfere.
3. Driving home?
Your freshman year of college you tend to experience more growing pains from both parties. The first couple times you move to and from your college dorm or apartment there is a little more of a novelty. The whole family tends to come with and it becomes a celebration.
When you're in college you become accustomed to moving every year at least. When it comes to the longer breaks, unless you are staying for summer or winter term, you tend to move your things home. Having a car alleviates that move your family, and allows you to move on your own. It also allows you to drive home for Fall Break, Thanksgiving, Christmas Break, Spring Break and Summer Break. That list doesn't even include three day weekends. (There are a lot of opportunities to go home for some good R&R)
Considering purchasing a car for college?
Principle Auto represents a variety of makes in a variety of locations! Find a location and a dealer closest to you. We would gladly get you or your student in a new or pre-owned vehicle that will compliment their life best!